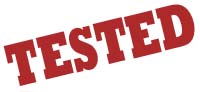 Resultatene fra testing av 2007 nyheter innenfor windsurfing brett og seil er på full fart inn. Denne gangen er det to av fjorårets favoritter for de som liker å seile fort, som er testet av det tyske magasinet Surf. F2 Stoke er et freeride brett med store fartsegenskaper, og F2 SXM er et 100% slalombrett og en fartsmaskin for de virkelig kresne! Les mer om resulatet.
Test results of SX M and Stoke 125, German SURF 1-2/2007.
Check out the very good test results of the SX and Stoke in the German Surf magazine.

F2 Stoke 125
Performance:
Planing through 11/15
Speed medium wind 14 / 15
Top speed 14 / 15
Manoeuvres:
Tight jibe 13 / 15
Carving jibe 15 / 15
Jumping 14 / 15
Easy surfing:
Control 12 / 15
Getting onto the plane 12 / 15
Power jibe 12 / 15
You will be stoked of the Stoke also at Lake Garda: very free and sportive hard the stoke is speeding over the boiling pot. The Stoke feels very small under feet which animated for jumping to the first stage. A very radical freeride board which doesn´t limit itself to just going straight. With little effort it goes around the corner. It feels even more comfortable in easy cutting formula one turns.
Pris kr. 9.999,-
[Link til F2 websider]

SX M
Perormance:
Topspeed 14 / 15
Speed medium winds 15 / 15
Control 12 / 15
Pointing 14 / 15
Getting onto the plane 13 / 15
Planing through 14 / 15
Manoeuvres:
Tight jibes 10 / 15
Race jibes 9 / 15
The dedicated racer has a lot of options to play with the adjustable cut outs, in order to trim the board even more towards his individual needs. After 2 times pumping the very light going racer accelerates impressively. Stance position and straps accord very well and give you a very direct feeling. …….in medium winds it feely very sportive and very fleet-footed. It gives you the best speed feeling of all boards next to the Fanatic….. Due to the extremely free planing position you need more commitment in high winds and heavy chop. Without compromise a very good board for good sailors. ….it stays very stable over the centre-line. At the mark the F2 is one of the best, which can get the turn very very tight but also still carve very smoothly.
Verdict:
A very sporty board that also brings fun to dedicated hobby racers in a normal to powered wind range. Fully powered it is a bit more demanding, but fully competitive.
Pris kr. 13.799,-
[Link til F2 websider]