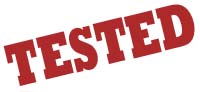 Mistral har hatt noen sesonger uten et rent slalombrett i sin range. For 2007 presenterer de 2 modeller. De som har ventet, har ventet på noe bra… for SL brettene mottar testresultater som får det til å grøsse nedover ryggen vår med tanke på at vi snart skal sette finna i vannet.
[Link til mer om Mistral SL 105]

SLALOM test of Windsurf UK magazine
Mistral SL 105
At a Glance
The SL range from Mistral is new for 2007, this 105L version complimented by a larger 120L model. Designed by Mark Nelson with the input of new brand manager Nik Baker, it is said to provide uncompromising performance for use by the expert rider in slalom competition. It has a rather straightforward bottom shape by Mistral's standards, exhibiting a slight vee by the shoulders and increasing to become pronounced in the tail. What it does possess to keep it in touch with the rest of Mistral's range is a swallowtail and quite a wide outline, with a flat deck (especially in the nose) and a relatively thin profile throughout. Standing the SL next to the rest in the group, it has quite a conventional outline, being relatively long with a significant amount of nose lift, when other brands seem conscious to reduce this at all costs. Supplied with a 39cm custom G10 slalom fin shaped by Kai Hopf and the brand's new Grip Pod deckpads, the board has an extremely well sanded spray finish, giving it a decidedly business-like appearance.
Ride and Handling
This is the first year in a long time that Mistral has had a specialist slalom board, and the 105 did impress us. It does feel larger than its quoted volume underfoot due to its wide flat deck, making it very stable at rest and bestowing it with an excellent rig carrying capacity. That said, the 105 is not really a marginal wind performer, feeling much more at home when comfortably powered and charging around fully released; in fickle winds it tends to sink on its tail, feeling sedate and somewhat awkward underfoot. Partnered with an efficient freerace sail in powered conditions and the 105 is transformed into a lively contender with a smooth response, thriving on every ounce of power provided. It releases properly to sit high on its fin, the wide shoulders remaining well clear of any danger as it reaches an impressive speed. In the right hands it is a match for any of the boards in this group, the deckpads providing good grip if not feeling a little hard in choppy water surfaces, whilst the tail and fin supply plenty of traction to push against. In overpowered conditions the 105 surprised us with how manageable it remained considering its width, nose rocker and light weight, keeping pinned to the water well and giving the rider the confidence to keep pushing.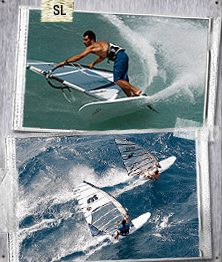 Manoeuvres
Much like its straight-line nature, if you enter the gybe underpowered on the SL, it tends to feel a little lacklustre and drops off the plane all too easily. Enter the turn during a gust and the difference the power makes is striking, imparting the board with heroic gybing potential. Turning in with speed it just needs to be introduced to the turn on flat water and it seems to do the rest – incredible for a supposed slalom board. In confused chop it needs more persuasion, yet holds its bite beautifully and responds to increased foot pressure to tighten the radius of the arc without complaint. Similarly in the tack, the 105 belies its racing character, carving up to wind smoothly before providing masses of time and stability to complete the manoeuvre.
For: Performance when properly powered; excellent manoeuvring for a slalom board.
Against: Doesn't take kindly to being underpowered.
Verdict
The SL is an impressive racing machine with a lot to offer across a wide wind range; only be sure to be powered to make the most of its potential.