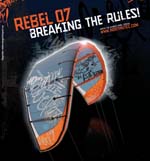 Først ut for 2007 hos North Kiteboarding er Rebel. Mottakelsen hos team og andre kunder har vært veldig bra. Dette er en ny generasjon kites. Nå er den på plass i butikkene! Vi minner også om at vi fortsatt har noen få 2006 kites på lager til gunstige priser.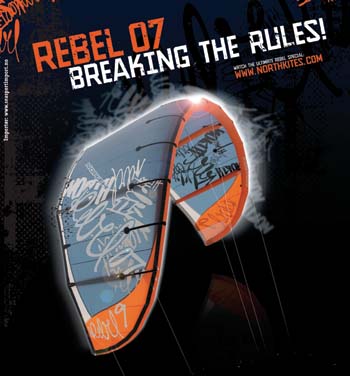 Produktbeskrivelse:
North Kiteboarding is proud to introduce a new breed of kite: The Rebel.
Combining all the benefits of total de-power with the safety, performance and re-launch benefits of five lines, the Rebel is breaking all the rules!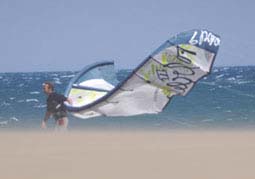 Using a redefined leading edge arc, canopy profile and swept wing tips, the Rebel challenges what was previously thought possible with a five-line kite, changing angle of attack instantly to deliver a huge power/de-power range.
Simply rigged on North's 5th Element, the Rebel has the direct bar feel and instant turning response of a c-shape kite, without the hassle of bridles or pulleys normally associated with a flat kite. With it's moderate arc and fifth line support, the Rebel is incredibly smooth and stable and is never prone to inverting.
The Rebel makes setting up for a jump almost effortless by allowing you to de-power as you position the kite above your head, then sheet in for power and lift.
With its super-durable construction and massive power/de-power range, the Rebel is also the perfect wave-riding tool. Power-up through your bottom turns, then instantly turn off the power for vertical wave re-entries. The Rebel allows you to position yourself on the wave, where you want, when you want!
So if you're looking for all-round performance and safety with the simplicity of five lines, look no further . . . The Rebel will give you all the tools you need!
At North Kiteboarding we have always believed in putting the performance of our products first. That's why we have devised a system that allows us to measure the load that the kite is generating with real-time wind readings on the kite simultaneously.
[Link video og produktinformasjon]
PRISER REBEL 2007:
3m2 kr. 4.599,- på lager
5m2 kr. 5.399,-
7m2 kr. 6.199,-
9m2 kr. 6.999,-
10m2 kr. 7.499,- på lager
12m2 kr. 7.999,- på lager
14m2 kr. 8.799,- på lager
16m2 kr. 9.599,- på lager
5th element with Lines 27m kr. 2.999,-
[Priser gyldig til 31.12.06]