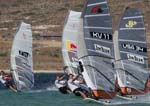 Vi har selv seilt alt av slalombrett fra F2 i år. Med eller uten påmontert fartsmålere. Og vi er ikke overrasket over at brettene nærmest dominerer listene! Det har blitt kastet ny glans over slalom ute i den store windsurfing verden denne sesongen og vi gleder oss som unger til neste år… og litt Freak of Speed når høststormene hilser på!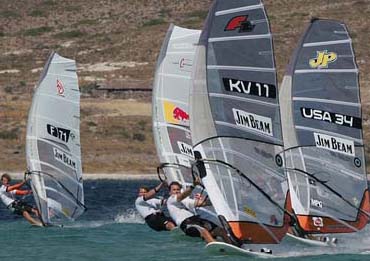 Pressemelding fra F2!
F2 is 3-times IFCA Slalom World Champion and PWA Slalom42 Women 2006
Champion !
The Jim Beam IFCA Slalom World Championships Alacati 2006 / 2006 Alacati PWA World Cup was the stage of success for F2.
Dominating the Slalom men, women, youth and masters fleets with more then 40 competitors on F2 boards was an impressive prove for F2´s supremacy in Slalom42, after being already the leading brand in Speed.
With Finian Maynard (F2) (Slalom men), Verena Fauster (F2) (Slalom women) and Massimo Masserini (F2) (Slalom masters), winning the IFCA Slalom world championship title 2006 and at the same time the 2006 Alacati PWA World Cup the F2 SX slalom
boards are without doubt the most successful slalom boards in 2006, again.
On top our Swiss power lady Karin Jaggi (F2) takes the ladies´ crown in PWA Slalom42 women, 2006 followed by Verena Fauster
(F2) on 2nd and Allison Shreeve (F2) on 3rd. Additionally Karin Jaggi leads the IFCA Slalom World Ranking by miles.
Finian Maynard (F2) is now on second place in the PWA Slalom42 Overall Ranking 2006 followed by Jimmy Diaz (F2) on 6th.
Finian still has a chance to win the PWA Slalom42 title 2006 at the Colgate World Cup in Sylt.
The IFCA Slalom World Ranking 2006 shows Finian on 2nd followed by our our shaper and teamrider Patrik Diethelm on 7th place. Peter Volwater finishes the World Ranking on 8th, Sylvain Moussilmani on 9th, Jimmy Diaz on 15th and Gonzalo Costa-Hoevel on 18th out of 181 riders.

Final results of the Slalom World Championships Alacati 2006
Men:
1 KV-11 Finian Maynard F2 Neilpryde 0,7 0,7 11,0x 1,4
2 FRA-192 Antoine Albeau Starboard Neilpryde 2 3,0x 0,7 2,7
3 US-3 Kevin Pritchard Starboard Maui Sails 6,0x 2 2 4
6 ISV-11 Jimmy Diaz F2 North Sails 9 11,0x 3 12
18 FRA-73 Sylvain Moussilmani F2 Simmer 29,0x 8 20 28
19 ITA-120 Patrik Diethelm F2 North Sails 37,0x 20 9 29
20 NED-24 Peter Volwater F2 North Sails
21 ARG-3 Gonzalo Costa Hoevel F2 Neilpryde
23 ITA-456 Alberto Menegatti F2 North Sails
24 POL-127 Jarek Miarczynski F2 Naish
28 ITA-106 Thomas Fauster F2 North Sails
31 FRA-72 Benoit Moussilmani F2 Simmer
35 BEL-101 Nick de Wannemaeker F2 Naish
37 TUR-3 n/a Ali F2 North Sails
38 ITA-7 Massimo Masserini F2 Gaastra
42 TUR-2 Enes Yylmazer F2 North Sails
43 ITA-3 Davide Beverino F2 Gaastra
44 CZE-76 Marek Raska F2 North Sails
47 POL-739 Patryk Hronowski F2 Naish
54 CAT-555 Alex Sanllenhy F2 North Sails
54 GER-29 Jorg Volenec F2 Naish
56 LAT-77 Uldis Asars F2 Neilpryde
57 TUR-58 Murat Sevincli F2 Neilpryde
60 POL-505 Andrzej Ozog F2 North Sails
62 GER-633 Uwe Sülter F2 Neilpryde
65 TUR-235 Emirhan Kolburan F2 North Sails
67 TUR-37 n/a Metin F2 North Sails
68 TUR-83 Osman Catirli F2 Maui Sails
69 CAT-1111 Eric Sanllenhy F2 North Sails
72 ISV-2 Michael Porter F2 Neilpryde
Women
1 ITA-31 Verena Fauster F2 Gaastra 5,0x 0,7 2,0x 2 0,7 3,4
2 SUI-14 Karin Jaggi F2 North Sails 2,0x 6,0x 1,4 0,7 2 4,1
3 AUS-911 Allison Shreeve F2 Neilpryde 0,7 10,0x 0,7 3,0x 3 4,4
7 TUR-33 Lena Aylin Erdil F2 North Sails 6 4 7,0x 6 7,0x 16
10 TUR-310 Ayse Nill F2 Gaastra 11,0x 9 11,0x 10 10 29
Youth
1 BEL-7 Pascal Somers Ahd Neilpryde 0,7 4,0x 0,7 9,0x 0,7 2,1
2 TUR-235 Emirhan Kolburan F2 North Sails 3 0,7 9,0x 0,7 4,0x 4,4
3 TUR-2 Enes Yýlmazer F2 North Sails 2,0x 2 4,0x 2 2 6
4 POL-739 Patryk Hronowski F2 Naish
7 CAT-555 Alex Sanllenhy F2 North Sails
8 TUR-335 Cuneyt Coskun F2 North Sails
9 TUR-888 Sina Can Kural F2 North Sail
Masters
1 ITA-7 Massimo Masserini F2 Gaastra 0,7 3,0x 0,7 2 5,5x 3,4
2 ITA-26 Francesco d'rso Starboard Severne 2 0,7 2 4,0x 5,5x 4,7
3 SRB-1 Leonid Judin Starboard North Sails 3 2 3 10,0x 5,5x 8
5 LAT-77 Uldis Asars F2 Neilpryde
6 GER-29 Jorg Volenec F2 Naish
9 POL-505 Andrzej Ozog F2 North Sails
13 TUR-58 Murat Sevincli F2 Neilpryde
14 TUR-83 Osman Catirli F2 Maui Sails
15 TUR-37 Metin F2 North Sails
16 GER-633 Uwe Sulter F2 Neilpryde
18 TUR-57 Turgut F2 North Sails
19 POL-5 Piotr Jankowiak F2 Neilpryde
21 ISV-2 Michael Porter F2 Neilpryde